Should You Enclose Your Forced-Air Furnace?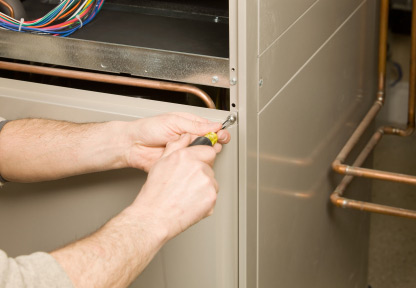 When considering furnace installation for your Greater Lehigh Valley home, there are plenty of questions to sort through. You need to find the right furnace type, judge its rating, consult a professional on size and specifics, and more. One, smaller (but equally important) question you may find yourself asking is: should you enclose your furnace?
There are two primary reasons for enclosing a furnace system, both of which are for different but practical reasons. Which one you're considering has an impact on our furnace installation, and should be decided upon with the assistance of your friendly Jack Lehr Heating Cooling & Electric professional as soon as possible in the planning stage.
Should I Enclose My Forced-Air Furnace?
It depends on why you're asking! Are you looking to:
Improve The Efficiency of Your System
Many homeowners turn to enclosing forced-air furnaces with the intention of feeding it outside air to improve combustion efficiency. This can see positive results, provided it's been handled appropriately. Enclosing a furnace for this purpose carries risk if not handled properly and according to local building codes. Feeding your furnace exterior "combustion air" has been shown to see mild returns in comfort levels and efficiency. It's mostly a question of whether you find it worth it compared to the cost of safely enclosing the system.
Hide Your System For Aesthetic Reasons
This one is less of a "should I" and more of a "can I". Many homeowners intend to use basements or other areas where a furnace may commonly be installed as an additional space. This can be for simple storage, using the space as an entertainment or receiving area or other reasons. The answer is yes, of course you can enclose your furnace. Similar to the other reason, this has to be handled carefully, and within strict specifications to be safe and effective.
No matter which reason you choose, enclosing a furnace should always be a matter of extensive discussion with your furnace installation professional. The space has to allow for appropriate ventilation (to avoid a number of health and safety issues, as well as ensuring proper furnace performance), and has to allow for easy access. Sooner or later all furnaces need maintenance and repair, and it simply won't do to be unable to access it!
Also be aware that our New Jersey weather is nothing to scoff at. If you plan on enclosing your furnace to expose it to outside air, it cannot be installed anywhere near pipes or other exposed plumbing. You'll be dealing with frozen pipes in a jiffy otherwise!
Superior Furnace Installation with Jack
Lehr
To learn more about the specifics of furnace installation, or to find answers to any questions you may have, contact a professional at Jack Lehr today! Our teams are ready and capable of handling your every HVAC need!
Q

uestions or need more information?
Contact Us

We Treat You Like Family
When you choose Jack Lehr Heating, Cooling & Electric, you'll benefit from our:
When you choose Jack Lehr Heating, Cooling & Electric, you'll benefit from our:
50+ years of experience
Your satisfaction, is our priority
Top-of-the-line products
Respect for your home or business
Financing options
And much more!
Learn More