Which Outdoor Lighting is Best for Your Allentown Home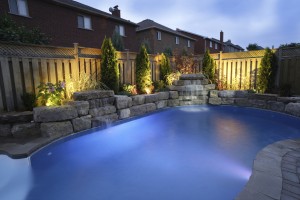 Outdoor lighting installation has practically become a branch of landscape design all its own in Allentown within the past decade. Previously used for functional reasons alone, outdoor lighting has evolved and changed, allowing homeowners virtually endless options. This is great news, as it adds a layer of uniqueness, and a method of really making your home design "pop".
There are, of course, functional reasons to seek outdoor lighting installation for your Allentown home. Safety and security are always primary factors in home design, and security lighting technology has made leaps and bounds toward making you and your investments safer overall.
Need an electrician in Allentown? Contact the certified specialists at Jack Lehr Heating, Cooling & Electric today!
Which Outdoor Lighting Is Best For Your Allentown Home:
Aesthetics
Looking for new, exciting ways to improve the aesthetics and visibility of your landscape? You've got your work cut out for you! The sky's the limit, But, this does present a bit of an issue. How do you choose the right outdoor lighting design for your home? Well, we've got some pointers for you:
Accentuate existing fixtures. Is your landscape built around a particular trend? Maybe you have a particular garden patch, grove of trees or a gorgeous sculpture in your yard. These make great focal points, that can be improved with what we call "spot lighting", or by way of accent lighting.
Highlight your home. Be proud of your gorgeous home, and put it on display with what are called wall-washing techniques. These lights are set to gorgeous illuminate the walls of your home, proudly displaying your structure with soft, strong light.
Water lighting. If your landscape features a pond, pool or other water fixture, you're wasting its potential if you don't use underwater lighting!
Path lighting. Illuminating your pathways really can fall under security and safety lighting or aesthetics. It serves as an attractive method of viewing safe pathways, guiding guests to your home and keeping them safe on the trip!
Security Lighting
The safety of your home is always a priority, and to reduce the threat of accidents and vandalism, nothing best modern home security lighting. Improve the safety of your home with:
Flood lighting. Positionable, simple and highly effective, flood lighting can be set to cover important entranceways to your home, or to illuminate potentially hazardous pathways around the exterior of your home.
Motion sensor lighting. Energy efficient, and highly effective, motion sensor lighting is great for deterring home invasion. It's also a great option for added safety in the event of emergencies. Locating a switch isn't always something you'll remember in the heat of the moment!
More lighting. The great thing about achieving home security through lighting is that any form of light improves safety. by layering aesthetic options, your home can become safer as well. Utilize path lighting, spot lighting, tree lighting and various other forms to make your home safer, and more attractive in the same installation.
Outdoor Lighting Installation With Jack Lehr
The certified electricians at Jack Lehr have been bringing superior electrical solutions to The Greater Lehigh Valley area for years. And we would love nothing more than to assist you in achieving the exterior design of your dreams! Contact Jack Lehr today to learn about our installation options, and how we can assist you best.
Q

uestions or need more information?
Contact Us

We Treat You Like Family
When you choose Jack Lehr Heating, Cooling & Electric, you'll benefit from our:
When you choose Jack Lehr Heating, Cooling & Electric, you'll benefit from our:
50+ years of experience
Your satisfaction, is our priority
Top-of-the-line products
Respect for your home or business
Financing options
And much more!
Learn More